Our favorite way to consume cannabis is in tandem with other things that we already love, like art. Art affects the brain in ways that few other experiences do; just read some of the work by our favorite Nobel Prize-winning neuroscientist Eric Kandel if you need a career's worth of evidence. Kandel doesn't discuss cannabis, but it seems logical that, since THC affects the brain too, it can transform the way you perceive art. And works by these members of the Contemporary pantheon will give your buzzed brain just what it's looking for.
James Turrell's work is easily described as hallucinatory, combining light, space, and references to nature to create surreal, immersive environments. Check out his Skyspaces around the world at places like MoMA P.S.1.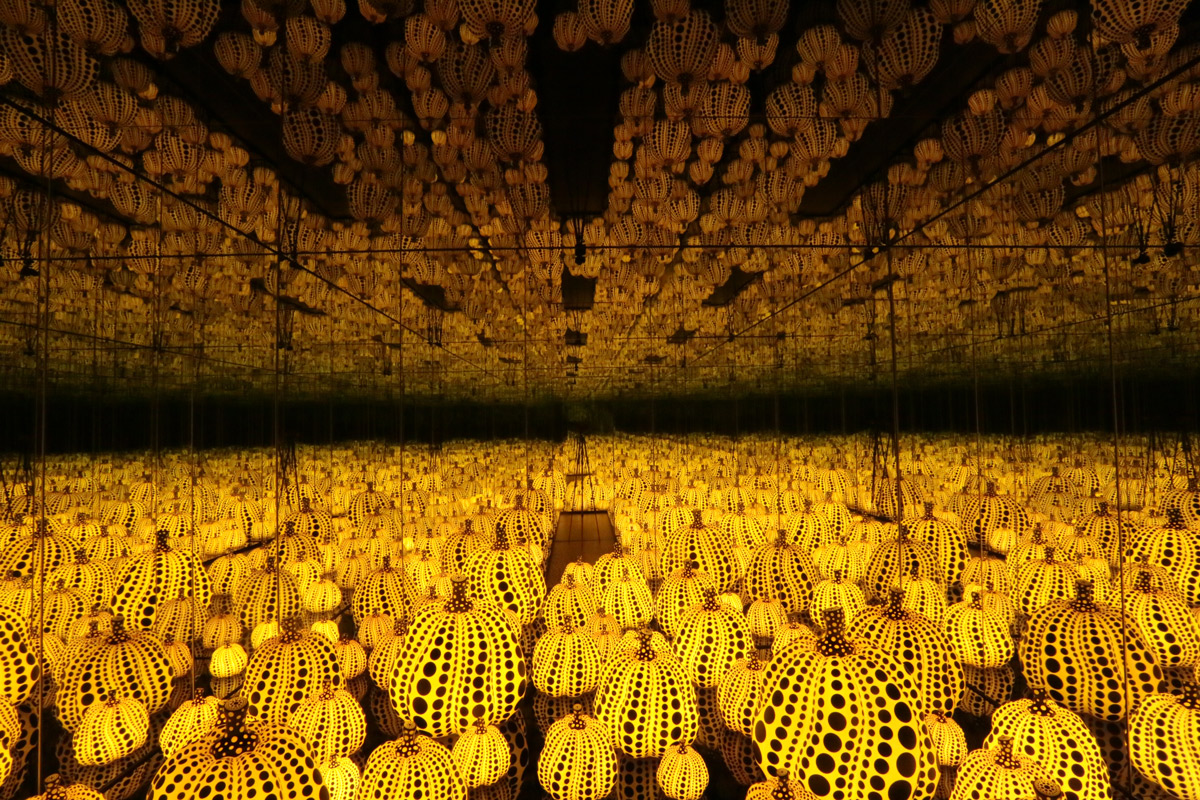 Yayoi Kusama meticulously uses repetition to create works that come right out of dreams. Kusama's creations, from rooms lined with mirrors and filled with lights that reflect into infinity, to giant gourds covered in undulating polka dots, will transport you into another state of mind.
Walter de Maria embraced experimentation with media ranging from earth (as in from the ground) to brass. A Conceptual artist, he re-contextualized and repurposed everyday materials in ways that trigger the viewer to imagine parallel worlds, where tons of dirt are the only occupants of a New York City loft, and a kilometer of brass tubing gets cut and organized into a beautiful room of gleaming gold.
Maurizio Cattelan is an Italian artist with a sense of humor that's irreverent, sharp and critical while also goofy and grotesque. Have a laugh while also feeling like an intellectual when you immerse yourself in Cattelan.
Victor Vasarely may as well be synonymous with Op Art, where optical illusions are employed to demonstrate technical prowess to dizzying effect.
Louis Wain is a cheat on our part. He isn't a contemporary artist, but we couldn't resist including him on a list of art perfectly suited for a high state of mind. Wain was an obsessive of cats almost a century before Youtube and Instagram, but it's the progression of his works over time into over-the-top cat psychedelia that we find fascinating.
Some of these artists might also have been inspired by cannabis experiences too. There's no good way to no for sure, but at least there's good discussion about cannabis potentially inspiring creativity.